Are you ready for Enterprise Project Management?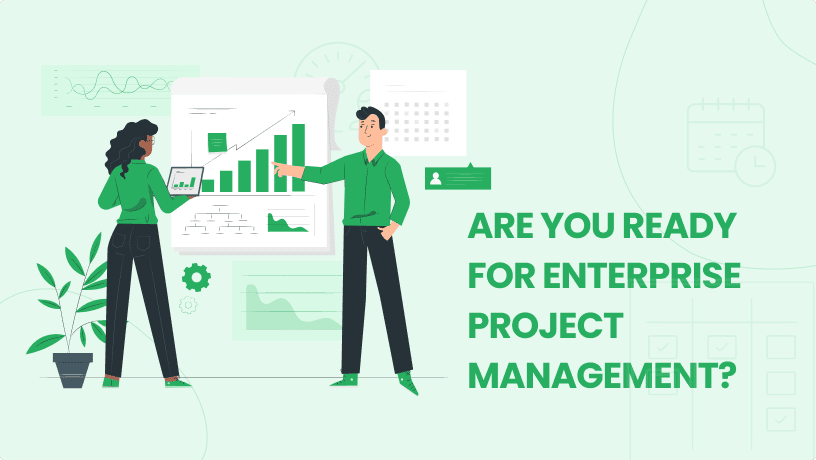 Best practices in taking your project team to the next level
Have you outgrown your existing project management practice and tools?  
Rapidly growing organisations often see their incoming project pipeline start to overwhelm their existing project management practice. This results in project information becoming increasingly scattered and pushing resource capacity beyond its limits for effective execution.   And, project management leadership no longer has the appropriate tools and processes to ensure project delivery or achieving the results expected by their stakeholders.  Consequently, these organisations are faced with the decision to either scale back their project intake and align it with their current capabilities or adapt to their current enterprise needs by adopting an Enterprise Project Management (EPM) system.
 For project-centric organisations looking to incorporate an EPM strategy in their practice, it is recommended to adopt a top down approach in which the organisation as a whole is plugged into the improved ways of tracking, accessing and sharing project information.  Enterprise Project Management takes a holistic approach to managing projects within an organisation with great consideration given to their impact on the people, processes and corporate objectives.  The idea is to develop a project management environment where projects are not treated based on individual merit, but as a group of interrelated goals that are linked to a single group of people with finite availability and talent.  
This white paper aims to help identify the common characteristics in project management practice that confirm a readiness for EPM and provide basic guidelines to successfully reach the maturity required to improve project management practice.  
Defining Enterprise Project Management
Not to be confused with Project Portfolio Management (PPM) which primarily focuses on a top-down approach analysing/tracking "groupings" of projects as a whole; Enterprise Project Management (EPM) takes a bottom-up approach focusing on a single project's success within the context of all other competing projects and resources.  In other words, the focus on successful scheduling, planning, execution and delivery must carefully consider the success of all organisation projects.  Although there are a number of definitions for EPM, the following one provides a good sense of what EPM should deliver to an organisation: 
"Enterprise Project Management is a way of thinking, communicating and working, supported by an information system that organises enterprise's resources in a direct relationship to the leadership's vision and the mission, strategy, goals and objectives that move the organisation forward. Simply put, EPM provides a 360 degree view of the organisation's collective efforts." Source:  http://en.wikipedia.org/wiki/Enterprise_project_management
At the core of EPM, project-centric organisations need to implement a holistic approach of managing projects within the context of all the activities that are being performed.  That being said, a successful EPM strategy includes enterprise wide buy-in, inclusive processes and a far reaching EPM platform to deliver the 360 degree view across the organisation.  The goal of Enterprise Project Management should be to transform your project management practice into a formalised process with a well defined governance framework along with best practices guidelines to effectively deliver multiple projects in a streamlined manner.  
Implementing an EPM Strategy for Success
Implementing a successful EMP strategy will require the education, tools and maturity to make the transition from successfully delivering a basic project environment to a more complex environment that deals with unexpected changes and competing factors requiring a strategic approach to managing projects. 
Implementing an EPM strategy demands careful planning and analysis of your organisation's current situation including a deep dive into what works and what hurts your projects and organisation as a whole.  Like any important project, successfully implementing EPM means first detailing short term, mid-term, and long term goals. Transitioning to an EPM system requires a lot of effort in nailing down the processes and their delivery in order to impact the organisation in the most effective manner.  Organisation's need to ask themselves where the biggest pain lies.   Is it lack of visibility to make informed decisions?  Are resources stretched to their limits?  Is the lack of access to information causing issues? Whatever the case, prioritising these challenges and designing a realistic, phased plan will mitigate the shock of change and set your organisation on the right path to EPM maturity.
To effectively implement an EPM strategy you may want to consider the following four steps:
Step 1 – EPM Definition

– Defining EPM within your unique context as well as the roll out strategy to ensure that the objectives of the implementation are in line with the overall process of all stakeholders.

Step 2 – Build a Plan

– Once the EPM is clearly defined, a detailed plan of the major tasks needs to be established.  This step represents the roadmap for getting the EPM strategy implemented with reference to the people, processes and technology responsible for its success.

Step 3 – Stakeholder Involvement

– As part of the implementation, the organisation needs to clearly define the roles and training necessary for all involved stakeholders, along with a communication plan to ensure that the EPM strategy is ready for roll out.  This is also the time to identify any missing elements that could impede the adoption of EPM.

Step 4 – Implementation Requirements

– In this final step the organisation needs to develop a list of specific requirements and phases that the organisation will agree upon.  The purpose of this final step is to establish a realistic agreement among all parties so that the final expectations of the EPM strategy are defined and met.
In conclusion, if the implementation EPM strategy is carefully laid out and all relevant parties are involved in its development from start to finish, the challenges to adopt an EPM strategy will ultimately be minimised.
Identifying "EPM Readiness"
Many organisations are late in identifying their readiness for enterprise project management. Initially project management is often a means to an end to either deliver what was sold to customers or to deliver the infrastructure to keep up with a growing business (as is the case with IT).  In a typical reactive mode, those "running" the projects quickly realise that they cannot keep up with the pace and that a change in their project management processes is needed in order to deliver the quality results that both customers and internal stakeholders demand.  At that point, many organisations will go into the marketplace and seek out project management technology to solve their issues.   Although recognizing a need is the first step toward a more mature practice, technology is only one piece of the EPM puzzle.  Even the best EPM technology can be successful without a well-defined EPM process and organisational buy-in to drive its success.
In order to take a more proactive approach to streamlining to project management practice, consider the following "EPM Readiness" checklist: