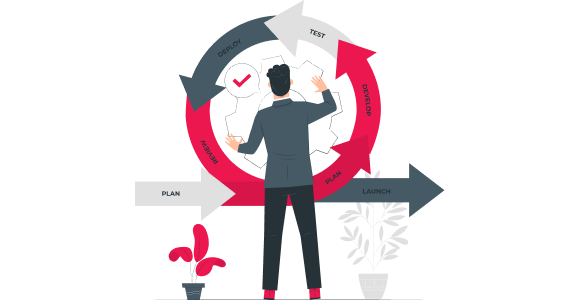 Solutions for IT Departments
Is your IT department demonstrating business value?
Drive your organisation's success through Information Technology. Strategically align your IT with corporate objectives in order to ensure the momentum, customer confidence, and competitive edge of your organisation. Employ the right tools to better support your organisation in delivering higher quality service to its stakeholders.
Get access to all the necessary IT project and portfolio reporting, tracking and execution tools supporting IT Governance, demand management, and service delivery. Get visibility into your project and portfolio lifecycles from demand to successful delivery thanks to Cerri Project's ability to adapt to your business processes.
How you'll benefit:
Improved portfolio, project and resource visibility
Streamlined project demand
Improved quality of service
Projects being strategically aligned with corporate objectives
IT Governance support
IT Governance Framework
Is your IT working for you?
IT governance is a structure of processes to direct and control IT decision making and to support risk management and compliance with corporate strategy. The main objective of IT governance is to ensure that IT delivers value and to measure IT performance. IT governance is about managing technology investments; specifically, it is always validating the return on these investments and addressing alignment with organizational strategies and principles and the contribution to the overall strategic objectives.
Genius Project makes it easy to achieve IT Governance through:
Project Portfolio (strategic alignment)

Cost and Budget tracking (value delivery)

Resource management

Risk management

Performance measurement
The bottom line is that Genius Project believes that the ability to direct and control the enterprise to achieve its goals while balancing risk versus return is paramount to any IT Governance plan. Businesses must make certain that IT and business alignment is achieved via a systematic, comprehensive governance process. The use of automation to reduce costs, improve visibility, and reduce if not eliminate ineffective processes within the technology portfolio is a pivotal component to success.
IT Demand Management
How do you manage being in demand?

IT departments receive an unbelievable amount of requests from a variety of sources and complexities, which makes it difficult to manage priorities. It is imperative to tackle each problem at the root, to sort and define priorities right from the start. There are numerous types of requests; new ideas or project requests, change requests on existing projects, incident reports or issue reports. Genius Project has IT demand management capabilities that lets you collect and organize these requests and even offers you tools to better define priorities.
IT demand management is, essentially, the way to manage a variety of change requests, issue reports, etc. This function lets you evaluate and rank requests according to their strategic alignment as well importance to the requestor.
Genius Project allows for demand management through:
Project Requests and Workflows

Request Tracking and Reports

Change Requests

Issue Reports

Configurable Workflow and Email Notifications
IT Project Execution
Take control of your balancing act

Cerri Project is an ideal project management software for any IT department. It allows you to manage, track and improve IT department performance by providing enhanced project visibility and resource management tools. With Cerri Project, IT departments will be better equipped to face the budget and resource constraints of today by being able to closely monitor forecasted and actual labour and costs.
Cerri is a project and project portfolio management software that allows for complete project execution through:
Project Planning and Scheduling (Gantt Chart)

Resource Management

Project Control and Tracking

Time and Expense Tracking

Document Management and Collaboration

Comprehensive Budget and Forecasting
In a single environment, Cerri brings a comprehensive vision of your IT activities enabling better managed projects by ensuring complete control over your resource load, costs and budgets in a collaborative environment. Genius Project allows for resource scheduling, budget and cost management and tracking; project planning, reporting and billing; and collaboration and document management capabilities. In addition, IT can effectively plan investments and resources mapped to their unique organizational structure.
IT Project Delivery
Time Management

An IT department's performance is the sum of its workforce's activities. The actions of each individual affects customer satisfaction, the quality of work completed and even how well a new business process or software solution is adopted. Cerri Project provides the means to observe and measure individual and team performance through its role-based user interface, promoting participation and mentoring to enhance the overall quality of IT service delivery.
Cerri Project provides real-time views of IT service delivery so that CIOs, IT managers and line-of-business counterparts can understand the impact that IT services have on business operations.
Cerri Project helps you deliver IT services more effectively by:
Facilitating the tracking of SLAs

Improve operational efficiency,

Reduce costs and increase satisfaction with IT services

Align its services with business-critical objectives

Record all requests for IT services and tracking

Managing requests through prioritization, planning and execution

Offering configurable workflows for pre-approved requests
Organizations that deploy Cerri Project can automate core processes, help control costs and manage risks, all while improving customer satisfaction and IT alignment with the business.
Budget Management
One of the biggest challenges IT department's face is the ability to align and track budgets to both long term and short term projects. In many cases, IT budgets are attributed for each period (either per quarter or per year). The challenge is to allocate this budget to various projects and items and to divide financing for long term projects over multiple budget periods. This activity is often linked to budget reviews and approvals, which requires the ability to manage different versions of the same budget.
With Cerri Project all of the elements necessary for cost and budget management of your projects are at your fingertips. Reporting, managing and the ability to have an overview of the discrepancies, provide a clear and accurate picture of budget status.
Genius Project allows for:
Project Cost and Budget Management

Rate Management

Cash Flow

Split budget over several years, budget review

Budgeting capabilities for IT, with multi-rate and multiple currencies
Cerri Project adapts to your budget management requirements, regardless of whether your budgets are annual, quarterly or based on one or multiple cost centers. It allows you to track required cash flow for each project period and highlight budget drifts by measuring Project Performance vs. Budgets, Planned vs. Actual, and Expenditures vs. Estimated Work for Completion. In addition, Cerri Project has the ability to maintain multiple rate matrices in multiple currencies that establish bill and cost rates for labor, expenses, and materials.
IT Project Performance Management
Are you meeting your project goals?
Project performance management is about IT setting project goals, determining the metrics to measure project performance, and finally addressing performance issues and implementing strategies to make improvements. Having the best performance tracking tools at hand allows IT departments to not only deliver the highest quality of service, but also encourages continuous improvement, contributing to your organization's overall corporate objectives.
Cerri Project empowers IT departments to:
Track project progress and cost against key critical success factors

Alerts project managers of pending issues, risks, and project activities

Measure and track demand

Track resource's availability and ability to meet project deadlines

Setup Key Performance Indicators (KPIs) to track activities across project

Measure ROI and strategic alignment of projects and portfolios
Software Development Projects
Managing the People behind the Code
Probably more than any other project environment, to deliver successful results, software development groups must meticulously monitor, track and document every aspect of their projects. More importantly, the approach through which projects are designed and delivered must include a strategy that incorporates the inevitable reality of emerging issues and changes that are common to most software development projects.
Cerri Project empowers project managers and team leaders who regularly face the challenges of change and visibility into their software development teams and projects. Whether software development projects are core to your business or a segment of your IT activities, Cerri Project delivers an enterprise PPM platform supporting your project and portfolio management strategy. It aligns strategy to the processes and daily activities that occupy your software development team. With Cerri Project you will be able to better manage your software projects from conception to delivery while improving the collaboration among stakeholders all along the way.
Cerri Project will help you software development group:
Support your software development process, such as Agile and Scrum methodologies

Manage your portfolio and customer demand

Track project budgets, costs, activities and assignments

Optimize resource utilization and loading

Provide a platform to collaborate and share project information and documents

Track issue reports and change requests

Deliver Help Desk support capabilities tied to project activities
Managing the People behind the Code
Cerri Project's professional service group delivers best practices in portfolio management, project management, business process management, IT service management, and Agile methodologies. Our services team provides a consultative approach in training and configuring Cerri Project to meet the unique needs of your software development group, ensuring that our PPM solutions map to your business strategies, functions and activities.
Free Trial